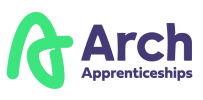 Support your finance team with an apprentice
If you're part of a business looking to upskill your staff, or hire into your finance department, a finance apprenticeship can help your business grow.
Over the course of the apprenticeship, we'll provide your apprentice with expert qualifications and experience to build their confidence and benefit your needs.
What types of Finance Apprenticeships are available? 
We offer two pathways that your apprentice can take. While they vary in level, both offer your business a chance to grow in the area you're experiencing skill gaps in. 
Check out our list below for the different type of finance apprenticeships:
Assistant Accountant Apprenticeship (Level 3) 
Over 18 months, we'll help your apprentices to understand the role finance plays in any business.  And there'll be positive output for your business too – often, Level 3 learners are involved with the preparation of VAT, completion of financial administrative tasks, and communicating with suppliers. 
Accounting Technician Apprenticeship (Level 4) 
This is a mid-level apprenticeship that will help advance your accountants to the next level. During these 18 months, we'll help your apprentice with creating and reviewing accurate and timely financial information within your organisation. 
How will my business benefit from a Finance Apprentice with Avado?
Creating a learning culture in your business offers enormous benefits. It helps your employees feel confident and valued. Which in turn can help your business move forward. 
We've worked with hundreds of financial businesses to nurture and grow learning cultures. Our award-winning education programmes and our years of experience will help meet the needs of your company. 
We'll support your apprentice throughout the course. We offer face to face visits with a Learning and Development Coach and an off-the-job tracker to ensure their needs are being met. 
Sound good?  
Fill in the form at the top of this page. We'll get in touch and help you find the perfect Finance apprentice. And remember, it's not all about finding someone new. We can advise you on how to get the most out of your levy fund by training your current staff. 
If you are looking to become a finance apprentice, you can use our find an apprenticeship page to find the one that suits you best.