CGI's focus on delivering complex projects well
Since its founding in 1976, CGI has become one of the world's largest IT and business consulting firms. They are active in 21 industries that span 400 locations around the world, and they employ more than 88,000 people.
Headquartered in Montreal, Canada, they provide comprehensive IT solutions informed by insights, delivered locally across the globe. CGI's goal in everything they do is to build and foster trusted relationships with their customers.
What CGI needed to build on their success
A massive focus for CGI was to develop their people and help them transform the business with the right digital skills. Through the increase in digitisation, they needed the right people who share their company values and enhance to succeed in a digital-first world.
Part of that challenge included improving their recruitment process to find those people and develop their existing talent at the same time. Regardless, their essential values and behaviours would have to be embedded throughout the process.
How we helped CGI prepare for the future
CGI was looking for a solution to enhance their workforce and future-proof the organisation. They wanted something that would help them close their digital skills gap and support young, diverse talent. They chose one of Avado's hands-on, blended learning solutions, FastFutures.
FastFutures trains up to 5,000 young people annually in fundamental data skills, technology skills and entrepreneurship while providing mentorship and practical employability knowledge.
CGI's investment in FastFutures is training up their next generation of talent coming into the business, while contributing over 360 mentors to the programme. At the same time, the programme is training their existing staff in people management, core coaching and mentoring skills while embedding a mentoring culture.
CGI's investment in Avado is part of their ongoing commitment to develop their employees and new talent for impact and relevance in an ever-changing marketplace.
How FastFutures has contributed to CGI so far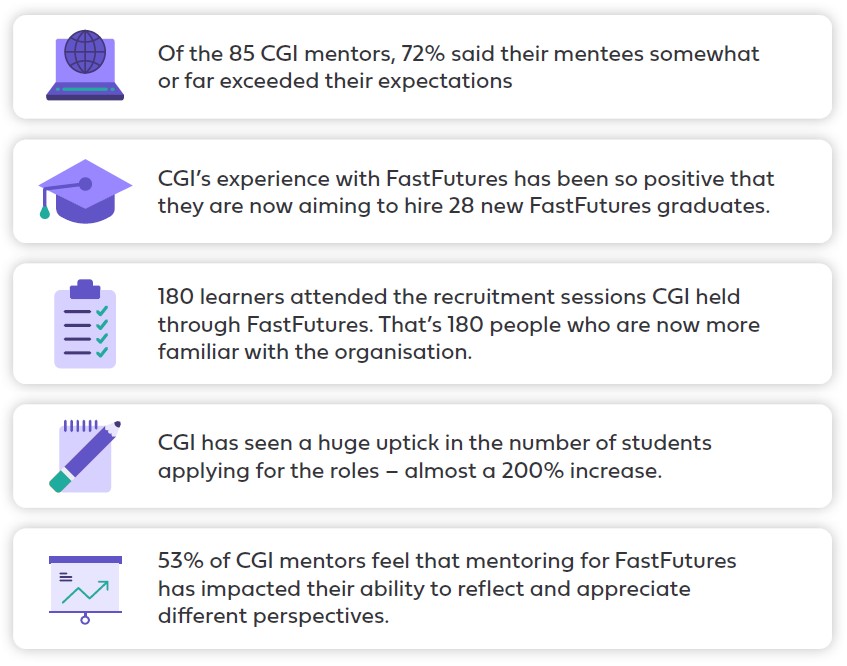 CGI's involvement with the FastFutures programme has not only been beneficial for learners, but also internally for the organisation's members. Watching individuals grow under their mentorship has given CGI's members the opportunity to learn more about what digital skills are important, and how they can support learning and development.
All CGI members are keen to volunteer and support causes, and FastFutures has helped several of them do just that. CGI have nearly 360 mentors on FastFutures from around their 5,500 UK-wide organisation.
When CGI reopened their grad scheme, timelines were extremely tight. They received 12 high-quality applications (10 business, two technical). With more lead time and better publicising of roles, they'll likely receive many more for their grad scheme opening in September.
A mentor in a leadership position on CGI's Growth team was also able to use FastFutures on a new business bid as evidence of the organisation's social impact.
We ran a survey to 400 people recently and:
CGI came 6th when we listed our employers and asked which they'd like to work for
CGI was mentioned 8 times on an open text field of top employers they want to work for maki one of the most popular, alongside e.g. NHS, Barclays & Google
What CGI's mentors and mentees had to say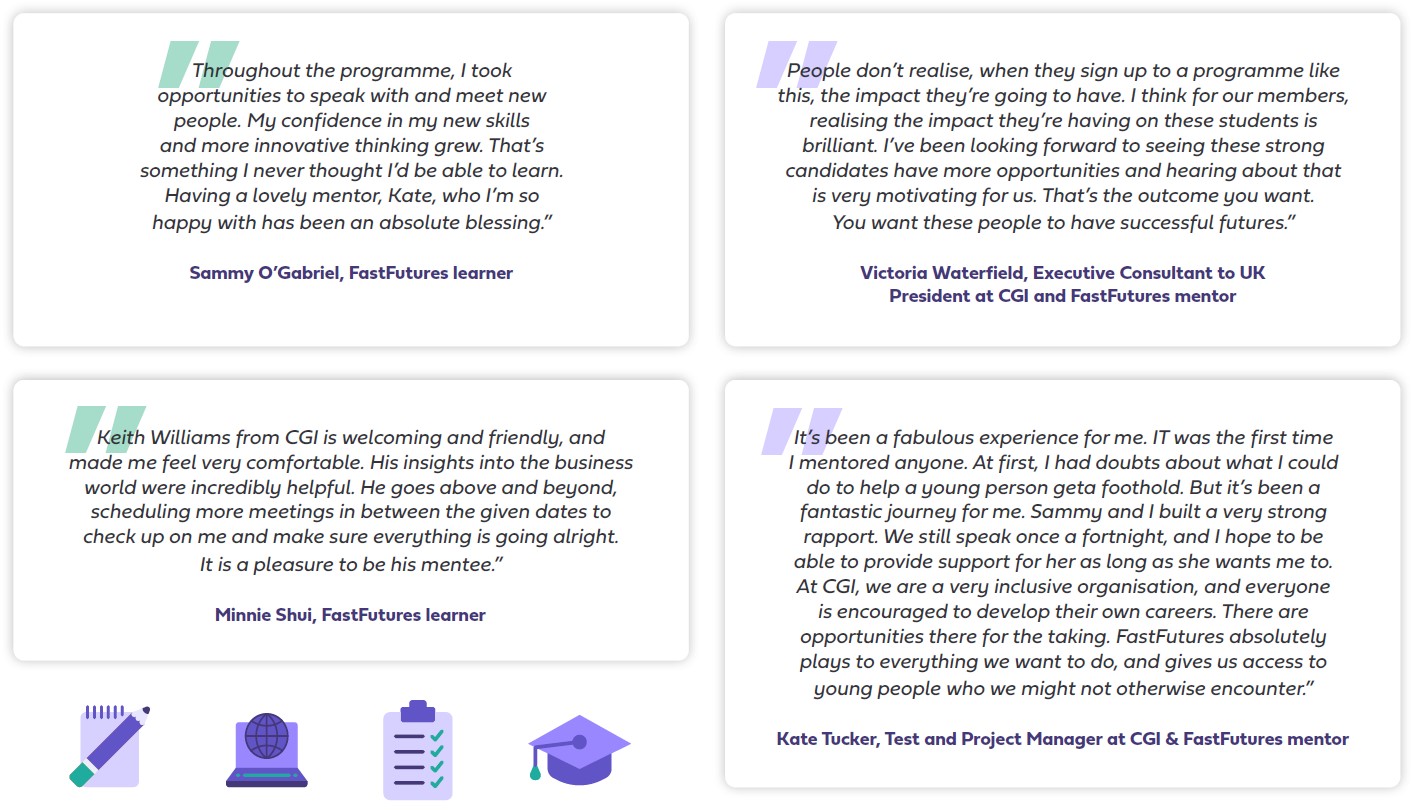 About Avado
At Avado, we believe that true transformation isn't digital, it's human. We build professional future skills to help diverse talent access and accelerate careers through award-winning learning experiences that deliver tangible and measurable impact. We upskill people, uplift culture and future-proof organisations in a fast-moving world.
Avado is proud to be a people-transformation partner to some of the largest and most innovative organisations in the UK including: Google, BT, NHS, British Airways, UK Civil Service, Legal & General and AstraZeneca.
To find out more, visit www.avadolearning.com