About GlaxoSmithKline
GlaxoSmithKline's mission is to help people do more, feel better and live longer. With a strategic goal to 'put customer experience at the heart of our output,' they identified a need to upskill and empower their team to become highly proficient digital marketers. As an innovative, global company, GlaxoSmithKline (GSK) needed a learning partner with fresh ideas and exceptional digital execution capability. They chose Avado to implement a global learning programme designed to enable GSK marketers to become truly customer-centric.
Companies can implement behavioural change thanks to Avado's award-winning learning programmes that focus on so much more than technical skills. We work with hundreds of businesses around the world to transform their talent through a blend of award-winning, interactive programmes that encompass our connected learning approach. Our programmes are scalable and can be delivered to every level of an organisation, which is exactly what we did for GSK.

The challenge
GSK's commercial priority to put customer experience at the heart of their plans had to start with their workforce. Their global and local marketing teams needed to learn how to create and execute competitive campaigns with three things in mind:
How best to use customer data
How to devise a brand strategy and communication objectives
How to fully integrate digital channels into their core marketing function
All of these learnings would inform GSK's new 'Marketing Ways'. With a highly distributed and scaled workforce to address, GSK were looking for a totally different approach to building capabilities. A Marketing Capability survey carried out internally at GSK in 2016 consistently identified 'multichannel campaign development and execution' to be the weakest area. And with digital predominantly driving GSK's 20% touch point growth, the time to act was now.
The solution
To deliver a world-class customer experience, six key workstreams were identified:
Build multi-channel capability and mindset
Create better content development processes
Make digital channels more user friendly
Enhance focus on data strategy and analytics
Improve support for local transformation
Increase digital innovation and strategic partnering
Avado's work began in May 2017. We planned a learning and development programme that would run over 18 months, addressing an audience of more than 4,000 participants across 65 countries at all levels of the business. Hence the appeal of, and reliance on, a world-class, technology-led solution.
With a greater emphasis on social learning and application, the programme would include live-action classes, digital workshops and online resources for marketers and matrix teams.
There was also education for leaders on how to support their staff while evolving GSK's culture and mindset in the face of rapid change.
Each audience was able to learn in a way that best delivered against the agreed learning outcomes thanks to Avado's blended learning approach. This also made sense for varied schedules and locations, as well as GSK's broader organisational goals.
See below for the four programmes Avado deployed and who participated in each one.
| | |
| --- | --- |
| Learning experience | Participants |
| Multi-Channel Marketing Certificate (MCMs) | 1,500 people across GSK |
| Digital Applications Bootcamps (DABs) | All managers |
| Senior Leaders Digital Bootcamps | Senior managers |
| MCM Lite | 2,000 people in functional roles |
How we delivered
Technology underpinned the programme, allowing the core themes to be woven seamlessly throughout. Our connected learning approach is a combination of proven teaching methods, incorporating online, interactive learning to create a flexible and engaging experience built around the learner.
Some of the key components of the programme were:
How best to use customer data.
Weekly live classes and online learning developed participant knowledge, provided context, examples and explanations, and troubleshot queries.
Learners were invited to evaluate their experience at the end of each module. This gave Avado's development team space to tweak and edit the learning design.
A bespoke student dashboard was developed to enable key people to review learner participation.
A cloud based Smartsheets project management tool kept multiple internal and external stakeholder groups up to date.
Chinese market
Local regulatory restrictions on internet browsing required Avado to adapt the online learning campus for China-based students and to ensure accessibility.
The results
The partnership between GSK and Avado has created a proven impact on both the individual and organisation. At the very top, GSK's 'Marketing Ways' document is being completely redeveloped to incorporate the core principles of the programme. GSK's 2019 business planning process was also centred on several the main tenets of the programme, a fundamental change in GSK's approach. The programme enabled GSK to level up its marketing and continue to reinforce and embed the learnings across the business.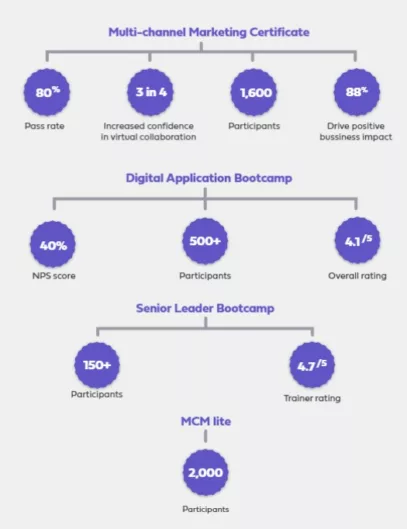 About Avado
At Avado, we believe that true transformation isn't digital, it's human. We build professional future skills to help diverse talent access and accelerate careers through award-winning learning experiences that deliver tangible and measurable impact. We upskill people, uplift culture and future-proof organisations in a fast-moving world.
Avado is proud to be a people-transformation partner to some of the largest and most innovative organisations in the UK including: Google, BT, NHS, British Airways, UK Civil Service, Legal & General and AstraZeneca.
To find out more, visit www.avadolearning.com