All our workshops are available online
There's no need to miss out on learning
Even though we can't hold any face to face training right now we still wanted to give you the opportunity to benefit from our amazing workshops. That's why we've made them all available as interactive online experiences.
You'll still be getting the same great teaching: we have decades of experience delivering online learning, so we know what we're doing
Fill in the form or give us a call on +44 (0)20 3906 7116 to find out more.
What is the Digital Leadership Workshop?
The Digital Leadership Workshops seeks to build a mindset fit for the digital age. It enables leaders to:    
Have a deeper understanding of the implications of the digital landscape 

 

Learn from external case studies and discover how others approach digital transformation 

 

Be excited and confident about the mindset and leadership behaviours needed to enable digital transformation 

 

Define the personal actions needed to implement changes in the way their teams operate 

 
Participants will leave the workshop with an immediate action plan for a digital-focused problem or challenge. 
Begin your digital transformation today. Join our Agility Academy.
Who is a Digital Leadership W
orkshop

for?
Senior management and executives who need to be confident they can steer digital strategy and execution. 

 

Change agents and project managers who need the ability to move quickly

,

 and coordinate teams and initiatives dedicated to digital change. 

 

Current and future managers and leaders who need to articulate, execute and lead digital initiatives to maximise results.

 
What does a Digital Leadership W
orkshop

cover?

Duration: Two half days

Intensity: Four hours per day, breaks included 

Our virtual workshops are fully online, highly interactive live sessions featuring experienced trainers. They include a blend of keynote speakers, discussion, group activities and reflection, and typically last up to 3.5 hours. Participants are expected to contribute, ask questions and work in groups throughout the session.    

Active learning - The Avado facilitator will frequently interact with the workshop participants. The facilitator will challenge their thinking in a safe environment.  

Experiential learning - Our virtual workshops encourage practise through regular breakout activities.  

Applicable learning - We implement our principles through reflections and action planning.  

Peer learning - We encourage participation and discussion in breakout activities and chatbox discussions, as well as audio interactions with peers.  

Interactive learning - We utilise poll questions, chat box discussions and whiteboard activities to increase participant experience and improve engagement.   

Long-term value - We extend the learning to pre- and post-workshop communications, surveys and optional reading materials.   
What are the learning objectives?
By the end of our workshop, learners will be able to:  
Explain the implications the evolving technology landscape will have for businesses, teams and stakeholders 

 

Apply design thinking principles to better empathise with customers and deliver customer excellence  

 

Adopt an agile mindset to meet customer needs 

 

Recognise the strengths of organisational culture and identify practical ways to overcome barriers to change and agility

 
What can be personalised, localised and customised?
We work with organisations to customise many features of the Digital Leadership Workshop , such as:
Branding
Introduction from senior stakeholder: defining relevance and purpose
Sector-specific case studies
Framing and key takeaways
What can be localised to specific regions?
We can work with you to localise the workshop content based on your region. Here are some examples of how we can work with you:
Introduction from regional senior stakeholder: contextualisation
Some region-specific case studies
Regional implications explored in discussions and reflection points
Your Facilitators
Neil Perkin
Neil is a renowned writer, keynote speaker and the founder of Only Dead Fish, a digital consultancy that specialises in applying strategic understanding of digital and emerging technologies to help businesses and leaders optimise their effectiveness within the new, digital-empowered business environment.
Neil is the author of 'Building The Agile Business' and 'Agile Transformation which provide an essential guide for leaders on achieving greater organisational agility and are two of the best-selling books on digital transformation. He has run global digital leadership programmes and consulted on transformation with a broad range of large, multi-national businesses and is a regular keynote speaker across the globe on digital transformation, agile strategy and leadership. He's been named by BIMA (British Interactive Media Association) as one of the most influential people in the UK digital industry, and by SAGE as a TOP 100 Global business influencer.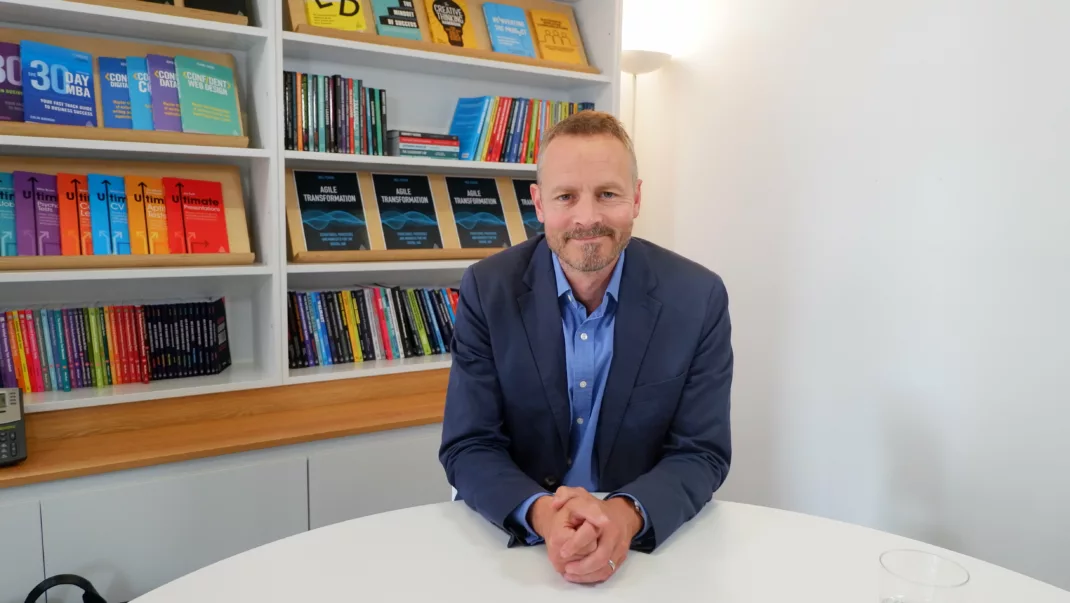 Nicholas Villani
After playing a pivotal role in building the award-winning Squared Online programme for Google, he became passionate about helping businesses transform in times of change and is a skilled coach in agile methodology, disruptive technology and leading teams through transformation. ​
Nick has a wealth of experience in digital leadership consulting and training across a wide range of sectors including FMCG, telecommunications, technology, insurance, banking and pharmaceutical. In addition to his consultative work, he is heavily involved in three start-up ventures; Isle of Eden (Sunglasses), Camp Wildfire (Festivals) and Coteam (Workplace Wellness).