---
Are parents still pushing for universities? Are employers still focusing on degrees when hiring? Our research says no, there are more post-16 options available now than ever before. 
---
Post-16 choices have changed considerably. Tuition fees skyrocketed and maintenance grants were scrapped; the appeal of university declined. 
In parallel, apprenticeships rose in popularity. More industries began offering apprenticeships, including traditional 'graduate' careers like marketing and advertising. The growth of higher and degree apprenticeships meant young people could still get a degree without university. 
While young people's outlook on post-16 choices is shifting, has their parents? And what about their future employers – will their lack of university education have an effect on their employability?
We surveyed 1,000 UK parents and 250 UK managers to find out. 
Parents choose apprenticeships over university for the first time
As highlighted in our FE News article, parents view on apprenticeships are changing. However, what remains their focus is their child's employability.
Our research revealed that 68% of parents now believe apprenticeships are a good career option; less than a quarter believe degrees make people more employable. 
Generational differences between parents highlight how university has changed. Below is a graph of higher education participation rates from 1950-2010 from Sarah L. Robertson's Globalising UK Higher Education (2010).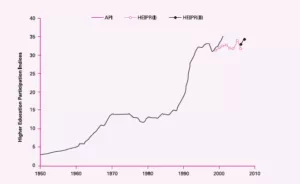 It was revealed that 80% of parents over the age of 60 (born 1960s and earlier) considered apprenticeships as a good career option. This is considerably higher than parents aged 30-39 (born 1981-1990) where it was only 40%. 
Shockingly, however, 1 in 10 parents don't keep up to date with career options for their children, relying on the education system to provide advice and support. Despite this, they claim that 28% of secondary schools don't provide career advice. 
In fact, this figure has stayed the same since 2017. Three years ago, we asked UK parents the same question; 24% said secondary schools don't provide career advice.
Despite millions of pounds of government investment, there appears to be no increase in awareness of alternative education routes, like apprenticeships.
Our research also revealed that parents believe less than half (49%) of secondary schools are offering advice on apprenticeships – is it now up to the parents?
With apprenticeships, I think parents really need to look at where their child will end up. In a short amount of time, they will have a number of qualifications and at least a year's experience working in their chosen industry.
It's a way for them to get their foot in the door, and it's a great opportunity for them to get into the world of work as they get lots of support from their employer and training provider. They're getting paid with no debt and are in the same jobs as graduates!
– Kelly, mum to Madi who recently completed an apprenticeship
Motivation and enthusiasm are more valuable than intellect say UK managers
Our research has revealed that the future employers of young people aren't looking for degrees; motivation (62%) and enthusiasm (59%) were the most important traits they look for in entry-level hiring. 
The vast majority (71%) believe in non-traditional qualifications (including apprenticeships). When managers were asked about their own role, 70% didn't think a degree was needed; just under a quarter (24%) said it was never needed! 
Findings from Instructure found that 85% of managers believe they provide effective training, despite only 8% believing entry-level new hires are prepared to immediately contribute to the business. 
Apprenticeships help managers prepare young talent by combining training with work responsibilities. By providing young people with a stepping stone in their first job, it boosts the chances of them succeeding. 
"Our apprentice is involved in many aspects of the business. He's learning in a few months what took me a year, he's really impressed everyone and he's become a key member of the team
I found it extremely rewarding having an apprentice. I realised that teaching someone actually helps to reinforce your own knowledge"
– Joseph Hollans-Gibson, SEO Manager at Banc Media
The future looks bright for young people
Historically, young people haven't been given much of a choice post-16. Generations have fluctuated between everyone going straight to work or everyone going university. 
For the first time, both options are equal. 
The pressure on young people to take the same route as their peers have eased – there's no longer a single route to take. Parents are seeing the benefits of apprenticeships and supporting their child if they decide to do one. 
The growing popularity of apprenticeships isn't just a benefit for those that don't want to go to university, but to all pupils in school, who now have a genuine choice in what paths and industries to pursue. 
About AVADO
For over 20 years, AVADO have been providing professional training and qualifications that transform businesses. In 2018, Ofsted 'Outstanding' apprenticeship provider, Arch Apprentices, combined forces with AVADO to become one of the most exciting education providers in the UK.
Since the Apprenticeship Levy was first announced in 2015, we've been consulting with businesses across the country on how to make the most out of their levy funds. From finance and HR to marketing and IT, we provide digital-first apprenticeships that will engage your workforce.